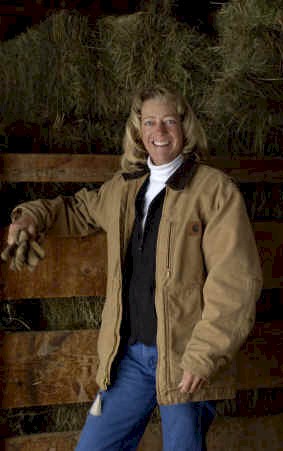 Originally from rural central California, I came to Jackson Hole, Wyoming in 1979. Having had a "real" job as a surgical technician in Idaho, I moved to Jackson to pursue my dream (since age 9) to make a living painting pictures.
My first summer in Wyoming I was able to paint on location once a week with Greg McHuron, who set me on the correct path of hard work and study of the painting craft. Other mentors include Hollis Williford, Skip Whitcomb, and Ned Jacob.
I was also lucky to have occasional help from Conrad Schwiering and John Clymer, both Jackson Hole residents, and grand gracious men.
The list of jobs I did to support my early painting years is quite varied: window washer; polo horse groom; cowboy; house painter; waitress (I was a lousy waitress!); UPS delivery help; and property caretaker.
My caretaking job has been a long association with a wonderful Jackson Hole rancher and international polo player. I've lived in a log cabin on his ranch for over 20 years. I've spent many days riding the range and ranches of Teton and Sublette Counties, which has given me a rich view of the natural and cowboy life in Wyoming's western mountains.
Larry and I have recently finished building our new home and painting studio in Jackson Hole.